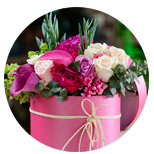 Forget

Me

Not

Florist


contact form & information

At Forget Me Not Flowers & Gifts we specialise in designing floral arrangements for all occasions. Contact us today to discuss your floral arrangements & bouquets for all occasions, our expert team are on hand to answer all your questions.
(045) 527421 - info@forgetmenotflorist.ie
Curragh Road, Kildare Town, Co. Kildare
Need to Get in Touch?
Please contact us using the contact form below.