Flowers

for

Corporate Events & Parties
At Forget Me Not Flowers & Gifts we specialise in designing and providing floral displays for corporate clients. Our services include but are not limited to large floral installations, seasonal floral displays, photoshoot flowers, weekly floral displays, floral arrangements for corporate events and Parties.
We take great pride in everything we do. We only select the freshest flowers available and our fantastic team of talented florists design stunning floral work that is guaranteed to impress.
Kildare Village
We have worked with Kildare Village since 2014, we design, provide and maintain floral arrangements and large floral installations for many areas, including weekly changes of fresh flowers.
We also provide flowers for their photoshoots and large floral installations, and we have a great working relationship with the whole team. We have designed the florals for many of their events with the most recent being the Barretstown 25 Year Anniversary.
Some of our
Amazing
Clients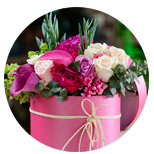 Forget

Me

Not

Florist


contact form & information

At Forget Me Not Flowers & Gifts we specialise in designing floral arrangements for corporate clients, events and Parties. Please contact us today to discuss your floral requirements, our expert team are on hand to answer all your questions.
(045) 527421 - info@forgetmenotflorist.ie
Corporate Contact Form
Send us your details and information on your Floral services requirements and our team we will be back in touch shortly after.